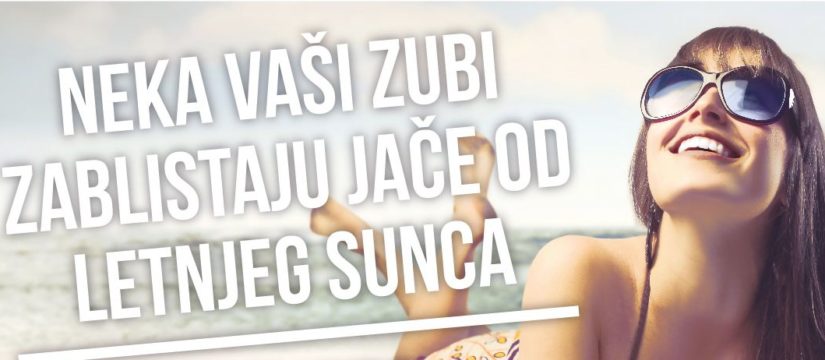 TEETH WHITENING IS THE MOST POPULAR SERVICE IN THE WORLD OF CONTEMPORARY DENTAL SERVICES TODAY, AND IT CAN SIGNIFICANTLY IMPACT QUALITY OF LIFE THROUGH SMILE AESTHETICS.
Because of this, and inspired by the great interest, we at the NorDent Dental Centre decided to offer the teeth whitening service at a discounted price of RSD 15,000 (saving an unbelievable RSD 10,000) during June, too.
If you want to achieve the desired results with teeth whitening and avoid negative consequences, leave the process to the professionals.
Preconditions for the teeth whitening process are professional cleaning, the removal of soft tissue deposits and airflow (RSD 2,500).
Although the teeth whitening method is a painless process, mild tooth sensitivity can be expected during the treatments, which resolves after a few days.
Before the professional whitening, the baseline teeth colour (shade) should be established photographically, with a corresponding teeth colour key.
The process of teeth whitening itself lasts for about 45 minutes, and includes the application of state-of-the-art whitening gels and a powerful accelerator whitening light, using the combined technique of halogen, LED and ultrasound to accelerate the whitening process.
The durability of the shade obtained through teeth whitening primarily depends on nutrition habits and smoking. Controlled teeth whitening with verified products, and avoiding coffee, tea, red wine and cigarettes will result in a long-lasting "Holywood" white smile.
Patients not ready to give up certain habits affecting the teeth colour (smoking, coffee, tea, etc.) have less chance of being satisfied with the results of the teeth whitening treatment.
Teeth whitening is the process of whitening only the natural dental tissue, while artificial materials like fillings and crowns do not change colour.
"LET YOUR TEETH SHINE BRIGHTER THAN THE SUMMER SUN"
For teeth whitening appointments and additional information, please call the NorDent Dental Centre on +381 24 561 112
#MiPravimoOsmeh (We make you smile)